FPT's stand at Bauma was full of Stage V
FPT Industrial presented its alternative propulsion offering at Bauma 2019 FPT Industrial, at Bauma 2019, consolidated its Stage V portfolio for the off-road segment and its vision for alternative propulsion. The increasing focus accorded to sustainability has changed and will continue to change the powertrain industry in the coming years. THE "NEW LOOK" OF CNH […]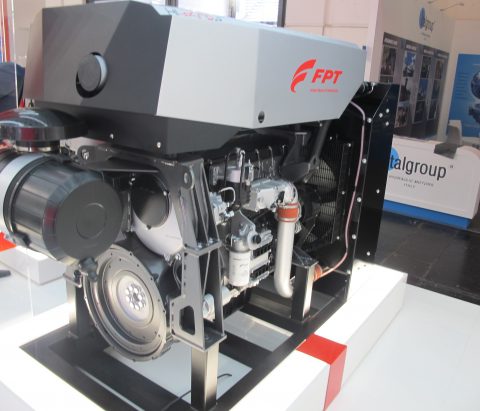 FPT Industrial presented its alternative propulsion offering at Bauma 2019
FPT Industrial, at Bauma 2019, consolidated its Stage V portfolio for the off-road segment and its vision for alternative propulsion. The increasing focus accorded to sustainability has changed and will continue to change the powertrain industry in the coming years.
THE "NEW LOOK" OF CNH INDUSTRIAL
Cursor 9 Stage V
Developed for demanding heavy-duty operations, including construction applications, Cursor 9 Stage V was showcased at the fair. With consolidated technical features, such as the high-pressure Common Rail Injection, Cursor 9 ensures performance and reliability.
To comply with Stage V, this power unit is fitted with the HI-eSCR2 system, the latest generation of FPT Industrial's after-treatment technology, which allows the engine to achieve uprated standards avoiding Exhaust Gas Recirculation (EGR). It is a maintenance-free technology, granting low operating costs and maximum uptime, together with oil service intervals of 600 hours. The 6-cylinder engine delivers maximum power of 330 kW at 1,800 rpm and maximum torque of 1,800 Nm at 1,500 rpm.
F34 Stage V
There was also this 3.4 liter, 4-cylinder engine, which delivers maximum power of 55 kW and maximum torque of 424 Nm. For compliance with the most recent emissions standards, it adopts a DOC (Diesel Oxidation Catalyst) + DPF (Diesel Particulate Filter) after-treatment system. With a robust design approach, F34 Stage V is focused on compact equipment, with a responsive engine and high torque output to ensure quick engine response in variable loads conditions.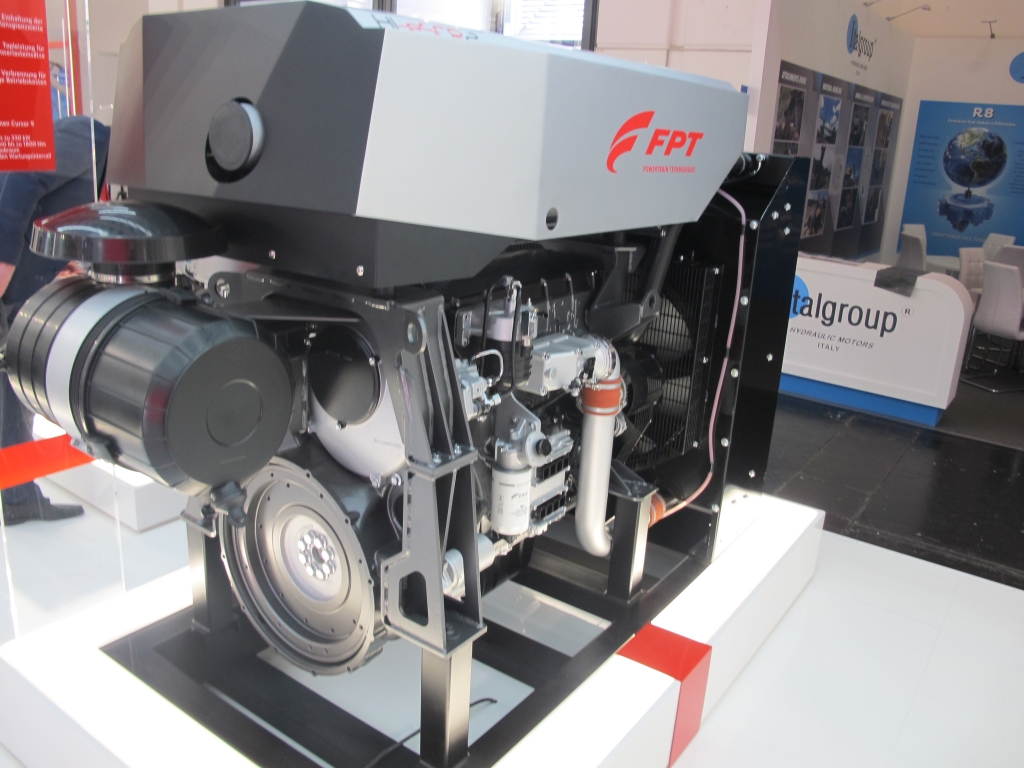 F36 Stage V
The F36 covers a higher power range than the F34, from 56 kW to 105 kW. The 3.6-liter engine also generates up to 600 Nm of torque, and thanks to the HI-eSCR2 after-treatment package, boasts low emissions along with one of the longest service intervals in its class: 600 hours. Its level of power density is achieved thanks to a radical redesign of FPT's previous generation 3.4-liter engine.
With a new turbocharger, improved piston design, power and torque are improved by 14% and 20%, respectively, with no change to the engine's external dimensions.
PowerPack
All FPT Industrial engines were displayed in PowerPack configuration, which adds a smart installation solution that encompasses all key after-treatment components into a single package. PowerPack's main advantage is its simplicity for installation, since it includes the required components for these purposes, such as DOC, SCR-on-filter, AdBlue injection system, sensors and manifolds.
For increased installation flexibility, the after-treatment pack can come engine mounted, as a ready-to-use solution, or as a loose pack to allow OEMs to design their own layout. In both cases, all electrical signals and connections are managed by a single cable for fast and reliable linking to the engine and machine electronic management system.
The Cursor X also made its appereance
FPT also exhibited the Cursor X at Bauma. It is "designed for Planet Earth" and represents a symbol of how FPT Industrial conceives innovation, also reflecting its product strategy vision. Moreover, this concept underlines the commitment of the Brand to alternative fuels' research and development.
The Cursor X will deliver power according to specific missions and customers' needs. The natural gas configuration, with an electric mode option, would be ideal for metropolitan and regional passenger transport, reducing CO2 emissions by up to 30%.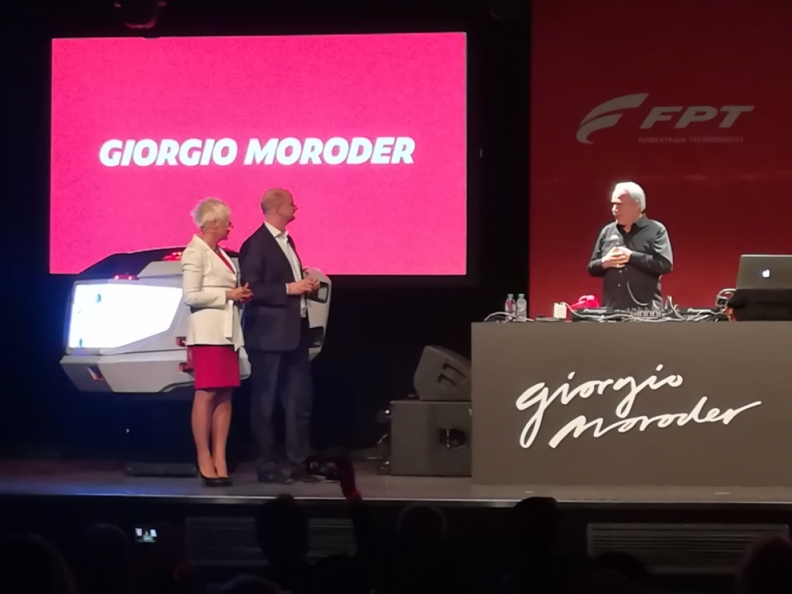 The battery electric configuration is ideal for urban delivery, with an estimated autonomy of 200 km. Finally, Hydrogen Fuel Cells could become the first full electric technology suitable for long-range, heavy-duty missions, with an estimated autonomy of 800 km.
FPT partnered with Giorgio Moroder for a special event in Munich
On April 8, a special encounter between FPT Industrial, pioneer of the powertrain industry, and Giorgio Moroder, pioneer of the music industry, offered a glimpse of what the future may hold.
Performing his first ever live tour in Europe, Giorgio Moroder stopped in Munich, Germany, where he first gained popularity, to perform at Technikum music venue for special guests of FPT Industrial. In his performance, Moroder showed his energy and innovative spirit with a selection of his best hits, considered landmarks in music history. Just like him, FPT Industrial is driven by innovation and quality. With 150 years of experience, FPT has introduced groundbreaking solutions, such as the Common Rail, Turbocharging and natural gas engines with the same performance as Diesel as a pioneer in the market.