French earthmoving equipment sales up
French earthmoving equipment market looks promising With sales of 22,040 machines, the French earthmoving equipment market in 2018 saw the best year since the market crash of 2008, according to Cisma (the French association of equipment manufacturers of construction, infrastructure, steel and handling equipment industries). Sales of earthmoving equipment in France grew by 2% in […]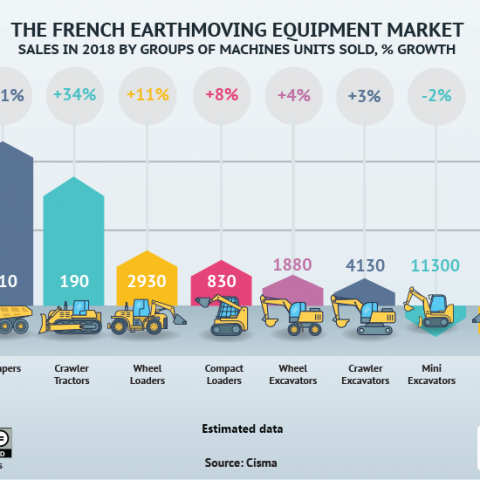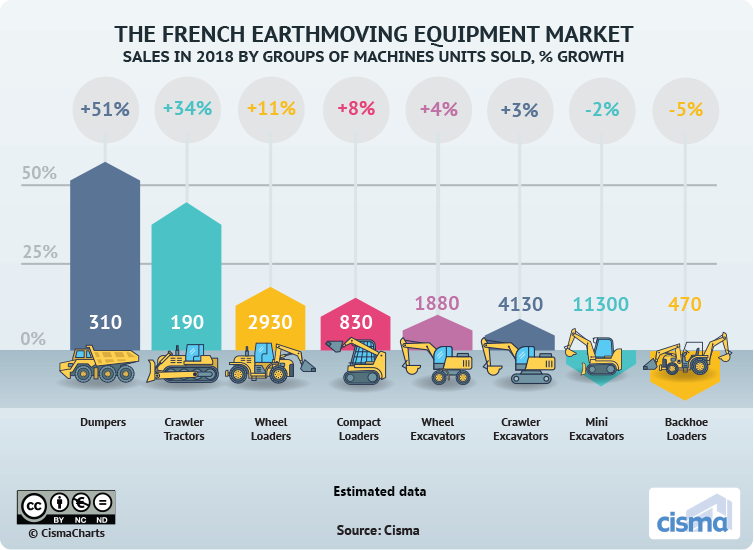 French earthmoving equipment market looks promising
With sales of 22,040 machines, the French earthmoving equipment market in 2018 saw the best year since the market crash of 2008, according to Cisma (the French association of equipment manufacturers of construction, infrastructure, steel and handling equipment industries).
Sales of earthmoving equipment in France grew by 2% in 2018 compared to 2017, and Cisma said the French market was still increasing, but at a slower pace.
Equipment sales within the French market were reported to have been relatively strong, and the French earthmoving equipment market remained the third biggest market in Europe.
In part, growth in equipment sales for 2018 was found to have been driven by wheeled loaders, sales of which were 11% higher than in 2017. This was said to be mainly because of a sharp increase in sales to rental companies, which grew by 91%.
The wheeled excavator market was also felt to be doing well. With almost 1,900 units, sales of wheeled excavator machines increased by 4%, following growth of 31% in 2017.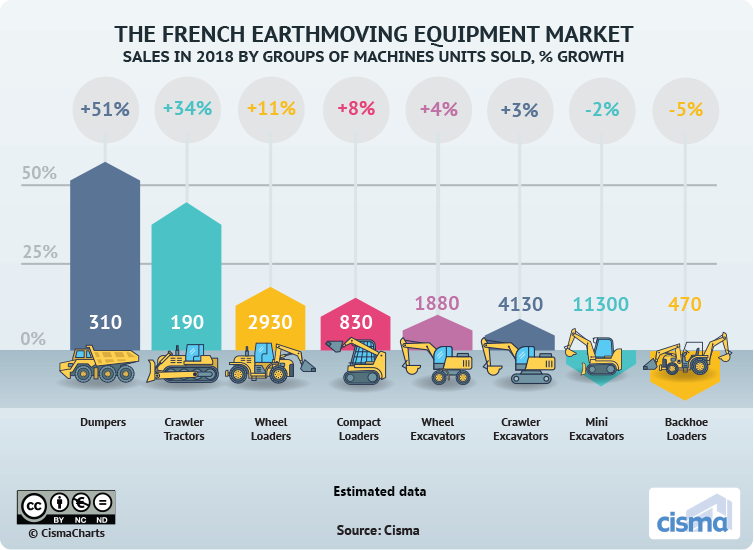 Numbers are good, but they will grow slowly in 2019
The French wheeled excavator market stands at the level reached in 2005/2006. France is the second biggest market in Europe for wheeled excavators after Germany.
The crawler excavators market under 6 tonnes continued to improve, with a rise of 3%. Meanwhile, mini excavator sales, which remained the most popular product, decreased slightly at -2%. Cisma said the decrease was explained by a 15% decline in sales to renters. The mini excavator market is close to historical record levels, it added.
In 2019, the building market is predicted by Cisma to decrease by 0.5%. However, the amount of residential and non-residential construction will remain at a high level, it said.
Above all, it said the growth of the civil engineering sector should remain high. This thanks to the investments of local authorities, the significant spending on the Grand Paris Express project, the French motorway plan launched in 2015 and yet to be continued, the IT infrastructure plan for high-speed networks, the renovation of the rail network, and others.
Cisma, however, said it is forecasting a flat market in 2019.