GUSS, the first autonomous orchard sprayer
GUSS, the Global Unmanned Spray System by Crinklaw Farm Services Californian manufacturer Crinklaw Farm Services has developed an unmanned vehicle for spraying orchards. The rocket-like Global Unmanned Spray System (GUSS) uses a combination of GPS, vehicle sensors and clever software to allow one operator to remotely monitor up to 10 units at once. Using a […]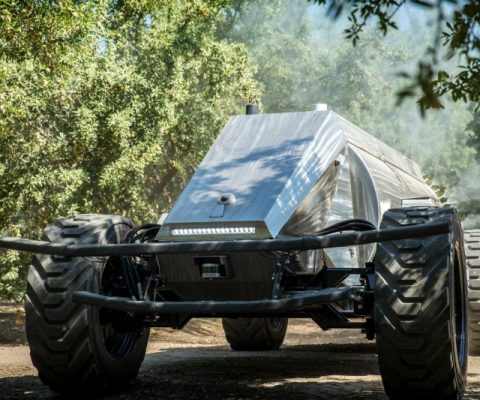 GUSS, the Global Unmanned Spray System by Crinklaw Farm Services
Californian manufacturer Crinklaw Farm Services has developed an unmanned vehicle for spraying orchards. The rocket-like Global Unmanned Spray System (GUSS) uses a combination of GPS, vehicle sensors and clever software to allow one operator to remotely monitor up to 10 units at once.
Using a variety of positioning information it avoids reliance on the GPS kit, which can be unreliable given much of the work takes place below the tree canopy. A control van is used to keep tabs on the sprayers working in different orchards at the same time.
Radio signals are continuously transmitted between the van and sprayers, relaying position data, vital machine stats and a live video stream.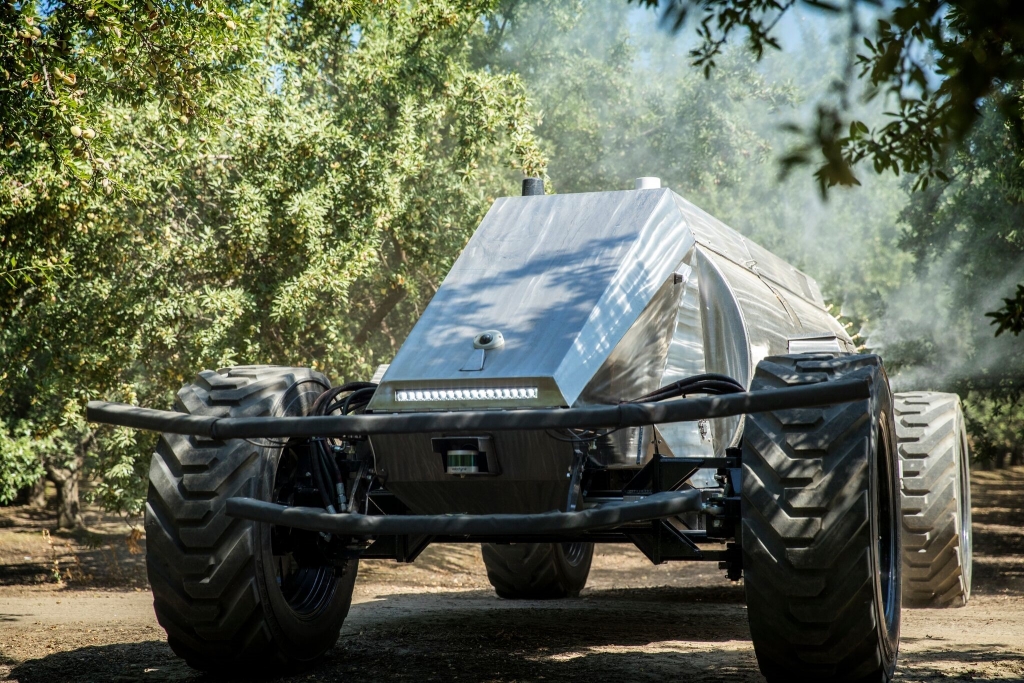 GUSS, no more risk for the health of the operators
GUSS was designed to maximize the efficiency and safety of pest management operations in large American extensive orchards. Thanks to the autonomous driving system that uses both GPS technology and a series of integrated sensors on the vehicle, GUSS guarantees maximum distribution precision avoiding the presence of an operator near the treatment area. According to the engineers responsible for the project, using a specific management software, a single technician will be able to coordinate up to ten Global Unmanned Spray Systems remotely.
And there is more… a Cummins engine for example
The low-profile shape of the GUSS is designed specifically to allow branches to flow over the top of the vehicle so as to not damage or dislodge fruit from the trees. Row widths in orchards vary significantly, so Cricklaw built the GUSS with four-wheel steering to give it a turning circle of just over 5m. This should allow it to comfortably swing from one row to the next.
Other notable spec details include a Cummins QSB6.7 engine rated to 127 kW, which comes with a cooled EGR system to meet the necessary emissions standards. So far, Crinklaw has built seven GUSS autonomous sprayers, which are operating as part of its custom spray application service for mid- to large-scale tree farms.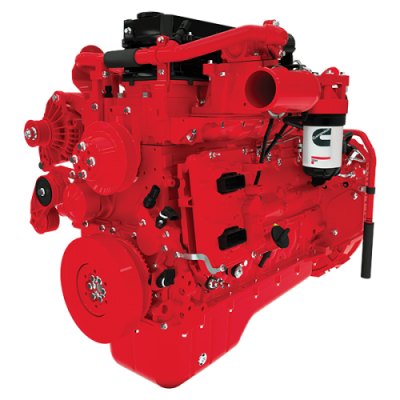 2 MILLIONTH CUMMINS ENGINE AT JAMESTOWN ENGINE PLANT
The California-based business is currently constructing a 20,000 sq ft manufacturing facility in Kingsburg and expects to begin selling the units to interested parties later this year.