Scania. "Premium brand of Traton" and Top Team
The words of Christian Levin, Vice President of Sales and Marketing, on Traton Andreas Renschler, head of Volkswagen, has recently presented Traton Group. The newly formed truck company of Volkswagen has put together Man, Scania and Volkswagen commercial vehicles, in addition to the activities in South America, the partnerships with Navistar, Sinotruck and Hino. Christian Levin, […]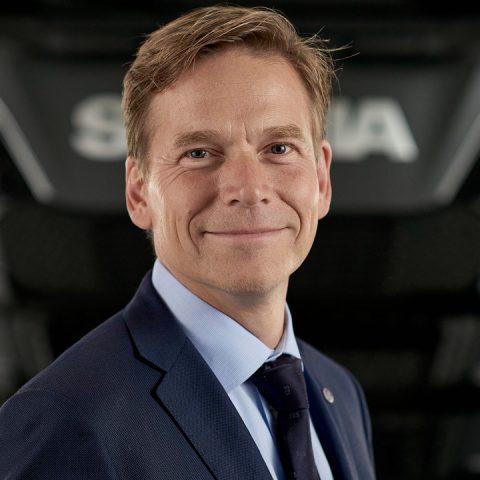 The words of Christian Levin, Vice President of Sales and Marketing, on Traton
Andreas Renschler, head of Volkswagen, has recently presented Traton Group. The newly formed truck company of Volkswagen has put together Man, Scania and Volkswagen commercial vehicles, in addition to the activities in South America, the partnerships with Navistar, Sinotruck and Hino.
Christian Levin, Scania's Executive Vice President of Sales and Marketing, commented on the new group, that is a candidate for world leadership in commercial vehicles.
«In 2014 Volkswagen purchased Scania and thought it could immediately make synergies with Man (acquired in 2011). But if the company already had great experience in the automotive sector, the same could not be said for trucks. Both brands, Scania and Man, had in fact a precise position on the market with their historical customers. Changing everything in a short period of time was not possible. In the past three years, this challenge has been acknowledged and that's why Traton was born».
«Renschler said that Scania is a premium brand and a leader in sustainability. For us, this is enough. We already are in this position, we want to confirm it and reinforce it».
Furthermore, a clear position was decided within the group for Scania in terms of innovative components, in particular: «It was decided that Scania will always be the first to launch new components and then, maybe three years later, the same ones will be provided to others. Furthermore, Scania products will cost more and therefore they will provide a higher technological content».
Christian Levin also underlined that: «however, there will be a clear distinction between Scania and Man organizations. They will not have any kind of relationship on the field if not for the usual commercial competition. The keyword is indeed competition. This is a key factor and VolksWagen seems to have understood it».
SCANIA DC16 AND THE MILLER CYCLE
Also from Scania: Top Team 2018
Top Team 2018. This year the competition organized by Scania has reached the tenth international edition.
The twelve best teams of specialists worldwide were invited to compete at the Swedish headquarters of the company. The teams came from: Argentina, Austria, Brazil, China, Finland, Italy, New Zealand, Poland, Switzerland, Taiwan, Netherlands and United Arab Emirates.
The semi-final saw the twelve teams compete against each other in six different challenges. The tasks ranged from components, to electronics, to the identification and solution of faults, up to pure theoretical questions, all focused on the "world of Scania".
The best four teams of the semifinals, Poland, Switzerland, Austria and New Zealand, then went on to compete in the final, broadcasted live on streaming.
The finalists challenged each other again between theoretical quizzes, components, electronics and mechanics, also operating directly on a Scania V8. This time with a lot more pressure on them both in terms of racing against time and each other.
In the end, it was New Zealand who managed to win the competition and the prize of 50,000 euro, followed by Switzerland in second place (with a prize of 30,000 euro) and by Austria in third place (with a prize of 20,000 euro).
Once again, the competition has shown all the talent and potential of different teams of young and trained specialists and the interest of a company like Scania to invest in the research for this kind of talent.