Volvo Penta and MRH Innovation & Sustainability Awards
For hybrid-electric, Volvo Penta has embarked on several initiatives, including a demo with Groupe Beneteau. In June 2023, the hybrid-electric test vessel was presented to media, customers, dealers and industry stakeholders to trial the system. The behind-the-scenes event at Volvo Penta's Gothenburg facility showed more than 70% of attendees would likely choose a hybrid-electric system for their next purchase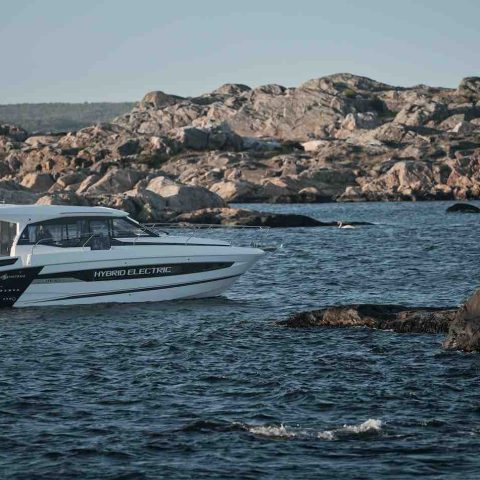 Volvo Penta's credibility in decarbonisation not only comes from its reputazione and the market, but also from recognition at inaugural MRH Innovation & Sustainability Awards.
Volvo Penta recognized at inaugural MRH Innovation & Sustainability Awards
Volvo Penta's approach to sustainability has been recognized as part of the first MRH Innovation and Sustainability award program. The new award was organized by the Marine Research Hub in partnership with the Fort Lauderdale International Boat Show (FLIBS) 2023. It was presented at the event to showcase industry-leading innovation efforts that drive the marine segment toward increased sustainability, with Volvo Penta named as one of the top three finalists. Finalists were announced on October 25, the opening day of FLIBS 2023. The Marine Research Hub is a non-profit organization, working to build a blue economy. FLIBS is one of the biggest shows of its kind in North America, with over 100,000 attendees expected to tour a venue that is home to more than 1,000 exhibitors for the week. 
"We are honored to partner with FLIBS for the first MRH Innovation & Sustainability Awards and recognize Volva Penta as a finalist. The company is demonstrating how the industry is doing its part to take care of our most valuable resource, the marine environment. Everyone can do their part while also continuing to grow the marine industry to be resilient and sustainable," said Katherine O'Fallon, executive director, Marine Research Hub.
Volvo for MRH: on the path to net-to-zero
Volvo Penta approach includes the development of future alternative fuels as well as hybrid-electric and fuel cell technologies, combined with advances in innovative boat design. A step-by-step approach supported by continuous advancements in efficient solutions for today's offer will deliver real-world solutions to boost sustainability while also mapping out the landscape for tomorrow's life on the water. Of course, all are designed with Volvo Penta's trademark comfort, performance and emotional connection in mind. One of the most important recent developments is the continuing evolution of the famed Volvo Penta Inboard Performance System. Boaters love the unrivaled maneuverability and forward-facing propulsion this unique design offers. Volvo Penta IPS is a vital part of the company's complete and integrated helm-to-prop solutions. This unmatched efficiency in driveline technology will be a key asset to enable Volvo Penta to drive sustainability independently of energy source in the future. A step forward in this journey is the announcement of the new Volvo Penta IPS professional platform – designed with the ultimate level of versatility in mind. 
This exciting new expansion of the popular range will extend its use into vessels and superyachts from 22 m to 55+ m (72 ft to 180 ft), and introduce new marine technology in this class of vessels. As well as bringing the efficiency, control and maneuverability benefits of Volvo Penta IPS to a bigger category of today's boats, it also sets the platform for these vessels to run from multiple power sources in future. This groundbreaking advance goes live in 2025, and points the way to an exciting new future in sustainable marine propulsion technology.  A further example of Volvo Penta's advances around sustainability is its use of HVO 100 (also known as renewable diesel), a fossil-free fuel able to power any of the company's diesel engines. The initiative is simple for customers to adopt, as no mechanical adjustment is required by the owner – simply refuel with HVO 100 and immediately start enjoying lower emissions boating. To underline the beauty of HVO 100, the fuel is now being used on all vessels at Volvo Penta's test facility in Gothenburg, and the company is actively promoting its use, including recent demos with the National Marine Manufacturers Association (NMMA) and practical advice for boaters. For hybrid-electric, Volvo Penta has embarked on several initiatives, including a demo with Groupe Beneteau. In June 2023, the hybrid-electric test vessel was presented to media, customers, dealers and industry stakeholders to trial the system.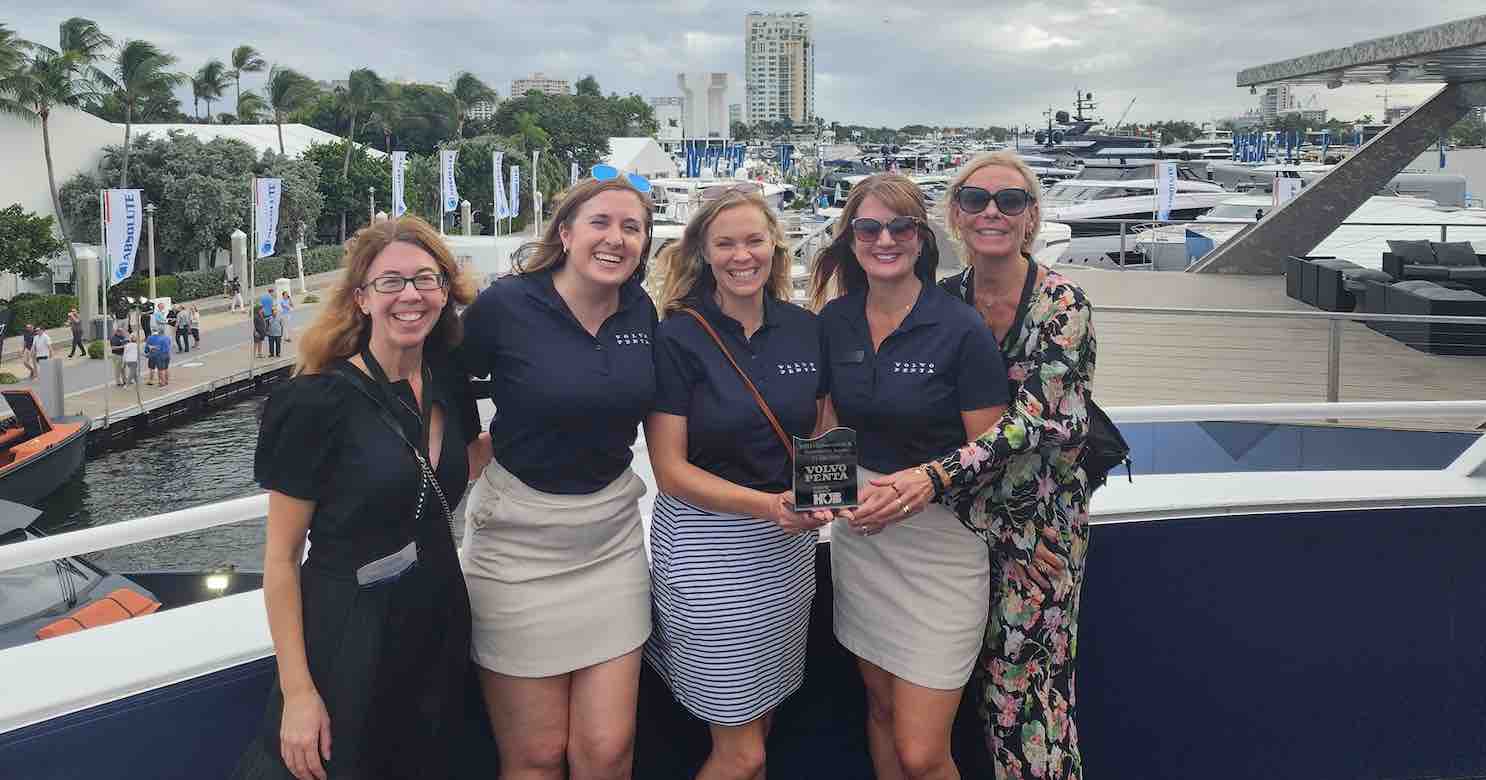 Other options
Elsewhere, Volvo Penta is testing several solutions in support of its aim to reach net-zero by 2050. The company announced a new range of variable-speed marine generator sets that enable boatyards to install hybrid-electric modular propulsion systems. Their intelligent design is future-proofed and means owners can invest in vessels knowing they are ready to integrate emerging alternative energy sources as and when they are available. And the company's ongoing partnership with CMB.tech saw a trial vessel rolled out – a pilot, dual-fuel hydrogen power ferry called Hydrobingo. This ferry is running test voyages off the coast of Japan and showing CO2 emissions reductions of up to 54%, including 28% lower NOx, compared with an equivalent diesel-powered vessel. Volvo Penta is a passionate advocate for alternative power options beyond hybrid and electric options (which it is also heavily engaged with), and this pilot project underlines that.