Himoinsa at bauma 2022 will be unveiling new Power Technology Solutions
Himoinsa has bolstered its position in the construction and rental sector with a comprehensive "Mobile Power" solution and a clear commitment to electrification and the use of alternative fuels that will mark out its roadmap towards sustainability and net zero emissions.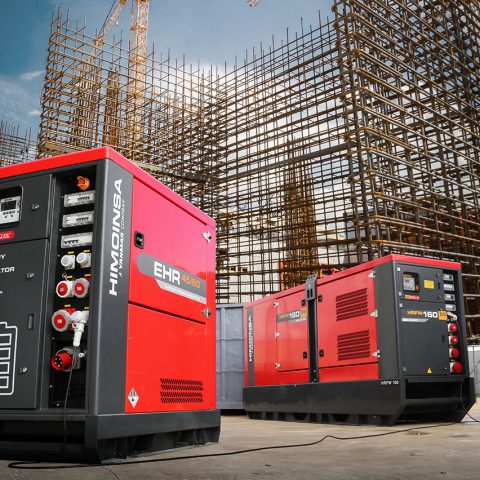 At the next bauma (October) Himoinsa will present its complete range of "Mobile Power" products, including battery power storage systems, lighting towers and gas and diesel generator sets with Stage V engines, at what is considered to be the world's largest construction equipment trade fair.
Himoinsa, which this year is celebrating its 40th anniversary, has established itself in the power generation market as one of the world's leading companies. The company has recently introduced new technologies at the very forefront of market trends and has developed battery power storage and distribution systems as part of its roadmap towards sustainability and achieving net zero emissions.
"The path towards the energy transition is the responsibility of all machinery manufacturers if we want to offer the market competitive and environmentally friendly equipment," explains Francisco Gracia, President and Executive Director at Himoinsa, who emphasises that "the company is constantly developing new products, combining different generation, storage, distribution and lighting technologies, which explains our commitment to invest around 20% of EBITDA in R&D every year."
In this context, the electrification of equipment, gas-powered generation, the use of alternative fuels such as HVO, along with the new Stage V technology will provide an interim pathway towards the introduction of hydrogen in an energy mix that aims to reduce the carbon footprint as much as possible.
Himoinsa: working closely with Yanmar
Himoinsa, which has been part of the Yanmar group since 2015, is constantly reinforcing its industrial capacity and is working closely with Yanmar's R&D departments on developing new equipment. "Our integration into Yanmar Energy System (YES) is a clear sign of our commitment to continue providing state-of-the-art solutions in the power generation sector," adds Francisco Gracia.
Battery power generation and storage systems
As part of its equipment electrification process, Himoinsa has introduced the EHR | Battery Power Generator (<60kWh) to the market and is already working on the development of higher power outputs; with 500kWh units and 1MW units in 20-foot containers and 2MW units in 40-foot containers. The EHR is equipped with the HICORE System, a management technology designed by Himoinsa which allows a more efficient use of energy. This smart management system selects the most favourable energy source for each charging condition.
During the trade show there will be a real demo of the EHR in operation, where the advantages of hybridisation with generator sets will be presented, as well as the considerable reduction in operating costs and its positive impact on the Total Cost of Ownership (TCO). All reasons which help justify why rental companies should include EHRs in their equipment fleet.
Gas generator sets
Together with its gas-powered equipment, the company will be showcasing Stage V diesel generator sets at bauma, for which it has already developed a complete range from 17 to 550 kVA. All of the equipment is suitable for use with HVO biofuel.
Himoinsa, which is working on the development of a complete portfolio of new diesel, solar and hybrid lighting towers, will be presenting its HBOX+ model in Munich, which has a 2TNV70 2-cylinder Yanmar engine, extended maintenance intervals of up to 600 hours and optimised fuel consumption of less than 0.55l/h, making it one of the most competitive lighting towers on the European market with a revolutionary design in terms of connectivity, efficiency and safety.
Visitors to Bauma will be able to learn more about 1MW generator sets with Yanmar engines, as the company will be showcasing the HRYW 1275 D5/6 generator set, which stands out because of its low fuel consumption due to the AY40 engine incorporating Yanmar's unique patented "Assign" combustion technology.