Bimotor and Valdinoci for Raywin
Valdinoci is an official partner of Raywin with Bimotor, the official master distributor for the Italian region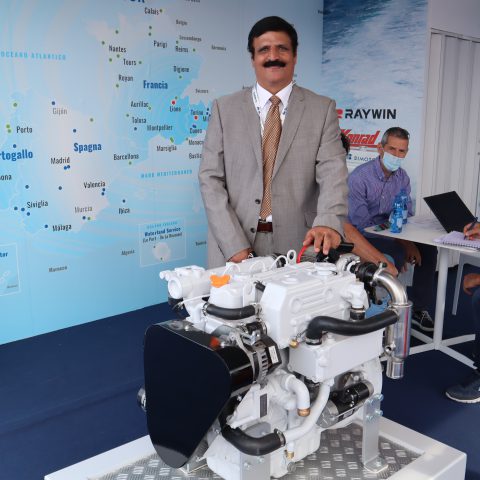 The agreement between Bimotor and Valdinoci continues Raywin's penetration of the European network. Also in power generation.
Valdinoci, Kohler dealer for decades, signed Raywin distribution agreement with Bimotor
Quoting Raywin Powertrain Technology, the Chinese company is pleased to formally announce the appointment of the Company Valdinoci Luigi as official Channel partner. He shall be working together with the official master distributor for the region, the Company BIMOTOR.
Bimotor, by means of the FPT Industrial brand promotion, and Valdinoci, through the partnership with Lombardini first and Kohler afterwards, are two companies with a long experience in the distribution of diesel engines and spare parts in the retail channel. Both share the same values and the same strategical market approach: product availability, technical support for engine integration, prompt supply of spare parts and technical service, assistance and 360-degree services around the diesel engine. 
Rajesh Sadhu, Vice President for Raywin Powertrain Technology
"This unique partnership brings on table to our valued customers in the region the best of the power solution experience of our two renowned partners with Strong technical and application Engineering expertise, stock availability of Engines together with the prompt and quicker product support. Over the next few months, Raywin shall be releasing more advanced Stage V solutions across the power range from 9 to 60 kW."
K.EY and Powergen International
With the aim of introducing this strategical partnership, Bimotor and Valdinoci will exhibit together at K.EY Energy 2023. The Renewable Energy Expo, which takes place from 22 to 24 March 2023 in Rimini, to meet all customers and people interested in the Raywin products. This event will give the opportunity to present the range compliant with the R96 directives (in line with the previous Not Emissionate and Stage IIIA ranges) and the ones with Regulation 2016/1628 (Stage V). Raywin Engines are a choice for compact power solutions across not only Power Gen application, but also Irrigation, Sprinkler, Industrial and Marine ones. In its aggressive strategy to become a reliable international player all over the world, after being part of several exhibitions in Europe (such as IFAT in Germany, International Genoa Boat Show in Italy, Hill Head 2022 Quarrying, Construction & Recycling exhibition in UK), Raywin Power Train Technology will exhibit, for the first time, at Powergen International 2023 (https://www.powergen.com/), in Orlando (Florida), with the aim to target EPA market in the next future.