China cuts subsidies, city ebus market decreases
Below, a contribution from Interact Analysis, a market research firm focused on intelligent automation, with a specific department for truck, bus and off-highway electrification in China. Interact Analysis recently wrote about the following topic: "New Chinese Subsidy Policy Results in 130,000 Fewer Electric Commercial Vehicles Being Sold Globally in 2025". The report is by Rueben […]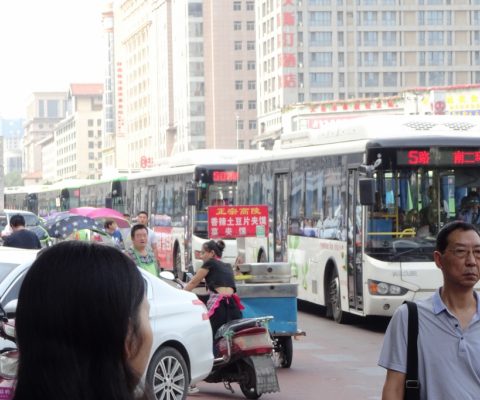 Below, a contribution from Interact Analysis, a market research firm focused on intelligent automation, with a specific department for truck, bus and off-highway electrification in China. Interact Analysis recently wrote about the following topic: "New Chinese Subsidy Policy Results in 130,000 Fewer Electric Commercial Vehicles Being Sold Globally in 2025". The report is by Rueben Scriven.
Based on new Chinese subsidy policy, Interact Analysis revises global demand for electric commercial vehicles downward by 130,000 vehicles by 2025. The new Chinese government's policy aims at increasing competition and product quality in Chinese market. The outcome? Chinese vendors are likely to aggressively pursue international markets to off-set lower domestic demand.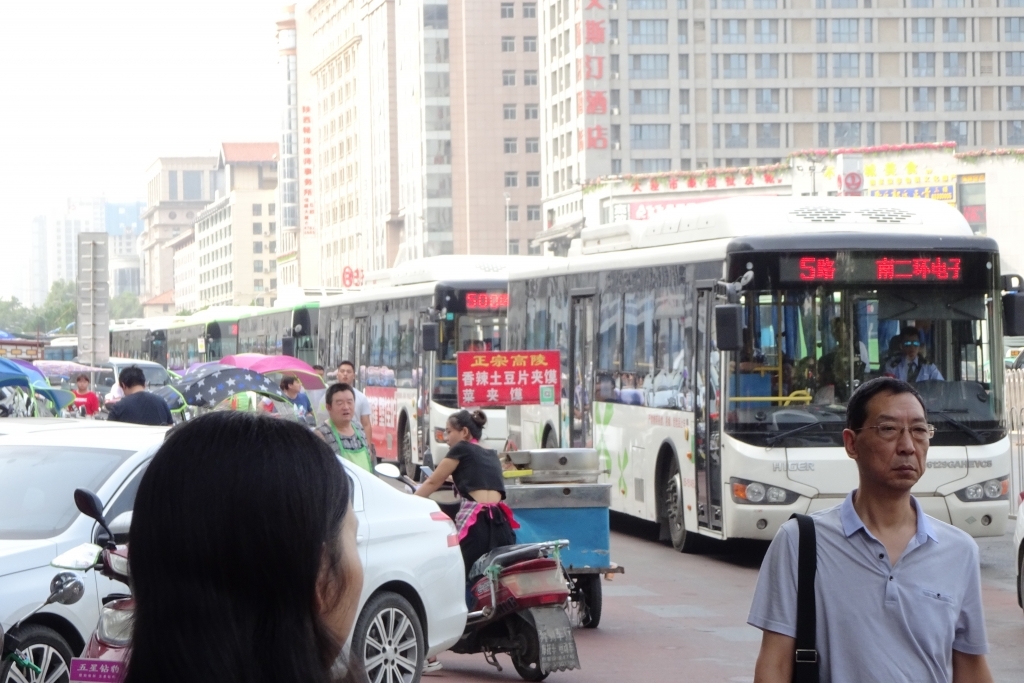 Subsidies in China will decrease up to 70%
With the environmental goal of reducing air pollution in some of the world's most polluted cities and the strategic goal of dominating the electric vehicle supply chain, China has adopted an aggressive subsidy programme to help boost the uptake of electric passenger and commercial vehicles.
It's no surprise, therefore, that big changes in China's subsidy policy will have a significant impact on global battery electric commercial vehicle volumes. Whilst it was known that China would be phasing out its subsidies by 2020, the extent to which it reduced its subsidies in 2019 was unexpected with some segments losing more than 70% of the subsidies they previously enjoyed. Interact Analysis is now the first forecaster to update its Hybrid and Electric Buses and Trucks forecast to reflect the changes. Most affected will be the medium and heavy-duty segments.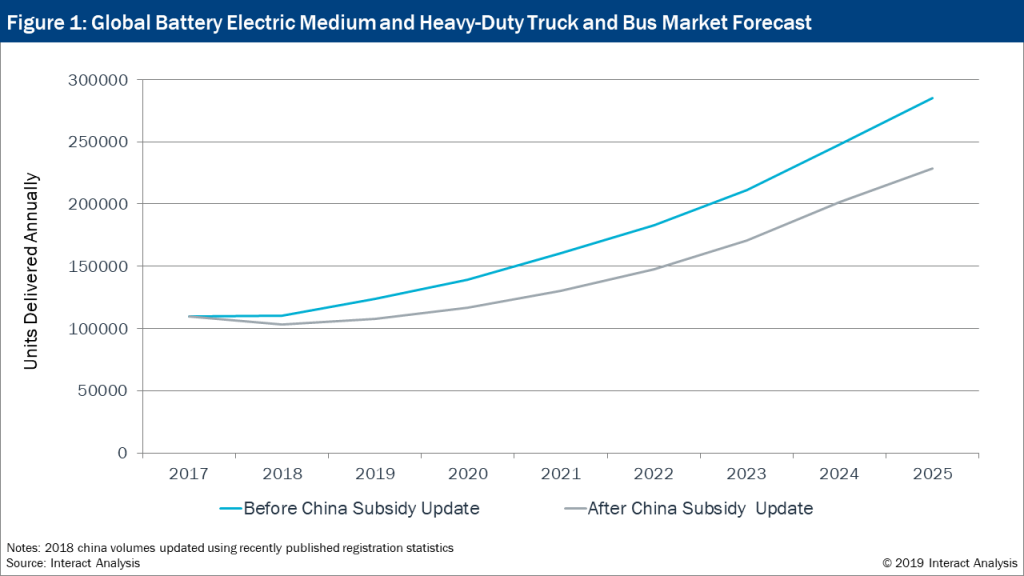 Intercity ebuses in the spotlight
Due to the commercial nature of the business, inter-city buses will be most affected by the subsidy change. The inter-city bus market is driven almost entirely by TCO and with such a large slash in available subsidies, operators will be far more reluctant to purchase battery electric inter-city buses. Given that the initial forecast estimated that 95% of inter-city buses delivered in 2025 would be in China, the subsidy change will have a significant impact on the global inter-city bus forecast.
Electric city bus market in China will keep on growing fast
But what about city buses? Public transport operators in China are closely linked to the local government and ultimately to the state. According to the indirect ownership ratio of BYD-GAC, the share of Guangzhou Government is as high as 27%. With China's strategic goal of dominating the global electric vehicle supply chain, it will likely continue to apply pressure on local governments to continue electrifying their fleets. In addition to China's strategic goal to dominate the supply chain, the problem of air pollution in China's largest cities also plays a big role in the procurement of clean electric buses.
RETROFIT BUSES: 107 MILLION FOR THEM IN GERMANY
A look at electric truck market
Medium and heavy duty trucks: medium and heavy-duty trucks in China will be impacted by the subsidy change. Without the generous subsidies, the TCO for battery electric medium and heavy-duty trucks is far greater than an equivalent diesel, petrol or gas model. Many long haul and heavy-duty distribution truck operators in China are currently looking at CNG and LNG drivetrains as a means to comply with future emission standards. Much of the volume for medium-duty trucks in China will come from "special vehicle" sub-segment, such as sanitation trucks, which will be less affected by the subsidy change given that the end customer is often the state.
Light-duty trucks: the up-front cost of an electric light-duty truck isn't far greater than a diesel equivalent model and the TCO is often lower for the lifetime of the vehicle, even without the generous subsidies. Additionally, the majority of light-duty trucks are used in the logistics sector which greatly benefit from the lane priority incentives which are still offered to electric commercial vehicle owners. With China's booming E-commerce industry, having lane priority in some of the worlds most congested cities is often far more valuable than receiving financial incentives.
City bus market won't be affected by subsidy changes
It's clear that the global market for battery electric commercial vehicles is highly sensitive to China's new energy vehicle policy and its most recent change will significantly reduce global volumes for the forecast period.
That being said, the city bus and light-duty truck segments are forecast to maintain their current trajectories with little impact from the 2019 subsidy changes. Given that 90% of battery electric commercial vehicles delivered in 2025 are forecast to come from these two segments, there's no question that China is set to continue enjoying its market leader position for the time being.