AS Labruna formula on display at Electric Boat Show
AS Labruna bets that the small boats will be electric. Coming soon... They unveiled some new features at EBS in Milan and will be launching the power pack at the Venice Boat Show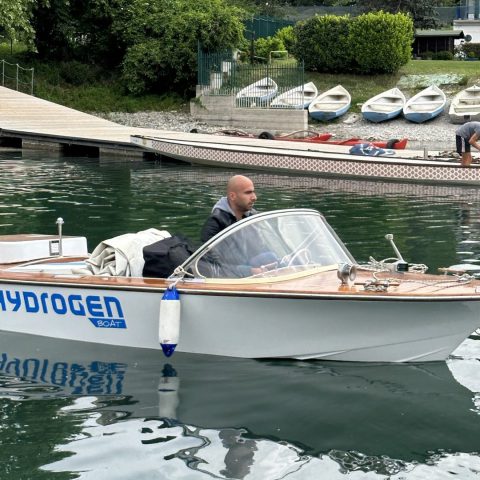 We have been at the Idroscalo in Milan, do you remember? From 12 to 14 May, alongside our curious gaze, AS Labruna could not miss it. "We are attending the Electric Boat Show because it is the only event in Italy dedicated to electric boats, for these specific applications. It is a special event, oriented towards testing boats in the water," Massimo Labruna explains.
Massimo Labruna's electric 'dive'
AS Labruna 's activism in the conversion of small- and medium-sized propulsion systems, an established practice reiterated at any venue, be it Metstrade in Amsterdam or the Venice Boat Show, is no longer a matter of surprise. They are here precisely in compliance with their role as a system integrator in the marine electrics. We will quote the beginning of what Labruna said at the Venice Boat Show a year ago: "We have developed a concept, in every sense of the word, that is scalable to larger vessels, where the critical issue is the power of the fuel cells, with the bar raised to 300 kW, which is still a remarkable power. This is how we plan to solve the age-old problem of the autonomy of full-electric boats. The boat is equipped with two electric motors, a backup battery pack and hydrogen fuel cells that recharge the batteries."
Futura, previously seen in Venice and Montecarlo, is docked at the Idroscalo pier in a further enhanced version. Two 11.5 kW E-Vision X-20 motors, with a 48V submerged motor, equipped with 5 kWh lithium batteries (expandable to 14 kWh), and two hydrogen cells of 1 kW each. It is AS's flagship model, capable of an autonomy of around ten hours. Futura however is not alone, flanked by two fibreglass open boats, equipped with an 11.5 kW electric outboard, from Apulia shipyards, in Italy, Idea Marine and Mingolla. Massimo Labruna emphasises that "the electric is compatible with everyday boats, 6.5 knots in electric mode and an autonomy of 4 hours."
And what are we going to see in Venice?
However, the upgrade is not limited to the hulls docked here in Milan. Maradea has also benefited from the optimisation of the system, significantly reducing noise, starting with the noise generated by the belt drag. The new features do not end here, indeed! In Venice AS Labruna will launch the powerpack: a box the size of a 20-hp ICE, with a 10 kW electric motor, 2 batteries, for a total of 5 kWh, and 11 DC-DC converters to recharge the service batteries, and a water cooling system. It needs no electrical connections. The latest announcement concerns the Energy Boat Challenge, which will be held from 5 to 8 July in Monte Carlo. AS Labruna will be at the race organized by the Yacht Club Monaco with a boat made of composite material, ultra-light to compensate for the weight of the four 7 kWh batteries, built in collaboration with the Polytechnic University of Bari.