Cormidi & JCB with Kohler in Reggio Emilia
Kohler DemoDays have been a perfect location also for Cormidi and JCB. They've took in operation some machines powered by Kohler engines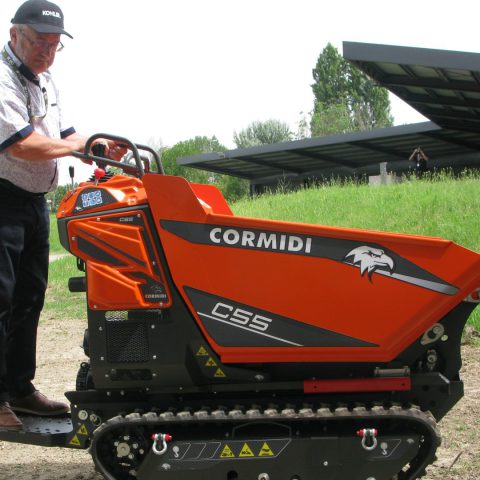 Kohler DemoDays 2023, we talked about Avant Tecno and Cela, now it is the turn of Cormidi and JCB. Cormidi is a manufacturer of construction equipment, based in the South of Italy, making products that are highly appreciated both in Europe and North America as well as in faraway Australia.
Cormidi likes Command PRO
Cormidi has chosen to offer in the U.S. and EU markets its C 55 and C 85 crawler dumpers with Kohler single-cylinder gasoline horizontal shaft engines, CH270 7HP and CH440 14HP, respectively. EU Stage V and EPA/CARB certified, they represent a product updated to the latest emissions regulations and equipped with some very useful pluses to improve the efficiency and durability of their products. The additions that distinguish the single-cylinder, horizontal-shaft Kohler Command PRO range of engines, and which have improved the efficiency and reliability of these machines, can be found in three aspects: the higher power output compared to competitor engines, which allows for better utilization of the potential of the hydraulic system; the Heavy Duty air filter, which is particularly suitable in dusty environments such as construction sites; and the larger capacity fuel tank compared to competitor engines (+29% in the CH270 and +15% in the CH440), this allows for longer useful working time between refueling and thus reduces the percentage incidence of downtime. Cormidi chose Kohler engines for reliability and power, features that can enable the machines to perform even better, allowing operators to work more efficiently and in a more environmentally friendly way in both Europe and North America. Cormidi's technological excellence coupled with the proven quality of Kohler engines has created added value for final customers.
JCB by Kohler, JCB&Kohler
The JCB 90Z-2 midi excavators are the result of years of experience in designing and manufacturing crawler excavators. This new model features the latest generation Stage V-compliant engine and significant improvements in performance, comfort and ease of operation. JCB's keywords for Kohler are many: quality, performance, robustness, low total cost of ownership and versatility. And they are all channeled into the answer given by the KDI 2504 on the 90Z excavator, which takes full advantage of its potential. Confirmed in the hearts of many large machine manufacturers, especially following the challenges of the EU Stage V implementation, the performance of this engine is not just limited to paper, where it is capable of developing 55 kW and 300 Nm of torque. In fact, it also translates into machine driving pleasure and increased productivity, making these engines perfect for urban environments where limited noise and low fuel consumption are required. The DPF regeneration strategy, which is smart and completely transparent to the operator, takes the hassle of the particulate filter away from the end user.
Hydraulic tappets, the Poly V belt, together with engine service intervals of at least 500 hours, make it possible to limit the total cost of ownership of the machine, thus also making it particularly attractive for the rental market. Finally, high torque at low engine speeds enables the machine to be exceptionally responsive to transient loads during excavation operations, as well as maximizing work productivity by up to 10%. Highly technological and certified for multiple countries, the KDI engine allows JCB to have a range that can be sold in many countries around the world, while having a reliable partner for future emissions.