Kubota's range of power systems and micro-hybrid at Bauma Munich 2019
Diesel of The Year 2019 V5009 headlines Kubota's comprehensive range of power systems at Bauma Kubota's BUEE (Business Unit Engine Europe) showcased its most comprehensive range of power systems to date at Bauma 2019. Heading up Kubota's line-up at Bauma was the Diesel of the Year 2019 V5009, a large-displacement diesel engine which is due […]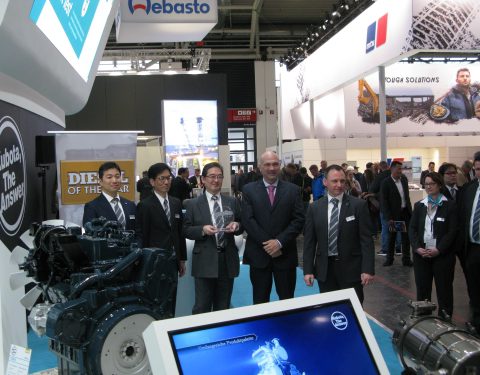 Diesel of The Year 2019 V5009 headlines Kubota's comprehensive range of power systems at Bauma
Kubota's BUEE (Business Unit Engine Europe) showcased its most comprehensive range of power systems to date at Bauma 2019.
Heading up Kubota's line-up at Bauma was the Diesel of the Year 2019 V5009, a large-displacement diesel engine which is due to enter mass production later this year as a genuinely global engine platform, further developed for upcoming Chinese non-road emissions regulations in addition to the EPA Tier 4 and European Stage V regulations. Other highlights include the recently launched V1505-CR-T and D902-T as well as a prototype of the new micro-hybrid engine, first shown as a concept at Intermat 2018, showcased as a prototype at Bauma 2019.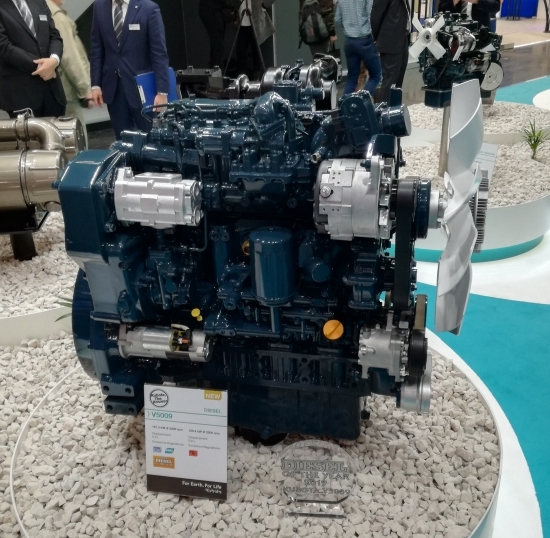 Yasukazu Kamada, Division General Manager, Engine Division, Kubota Corporation, said: «With a requirement for new technology married to a greater need for trusted global brands in an increasingly uncertain world, Kubota's growing sales story and strength and depth of its engines line-up has never been surpassed in our long history. As we enter a new period of demand for efficiencies, emissions compliancy and whole life costs, we must consistently improve everything we do from engine design to supporting our customers».
Tony Tonegawa, Vice President, Kubota BUEE, added: «We have come to Bauma, confident that we have the best products in the marketplace and that we are well placed to meet our customers' ever more demanding requirements. With EU Stage V emissions regulations now live, it is more important than ever that we produce a more energy efficient range of engines that offer an increasingly global solution to any of our customers' needs».
Daniel Grant, Marketing Manager, Kubota BUEE, concluded: «We do not believe that the future belongs to any one power source or technology, and we must be prepared to meet our clients' needs, whatever they may be. The micro-hybrid, for example, is a potential response not to a demand for electrification, but rather the desire for greater energy efficiency which can lead to downsizing. We are hearing more and more from clients who want both regulation compliance and increased efficiency with no diminution of performance».
DIESEL OF THE YEAR 2019 WNNER: KUBOTA'S V5009
Kubota brings its micro-hybrid system to Bauma Munich 2019
Kubota believes equipment manufacturers will progressively become less reliant upon any single power source, and that the engines themselves will need to further push the boundaries in areas of fuel efficiency, power density and adaptability. As a result The Japanese company is confident that the Micro-Hybrid system will offer greater opportunities for equipment manufacturers to exploit advances in product design flexibility, optimization and efficiencies derived from "Down-Sizing" while maintaining the overall machine performance and productivity.
Designed principally for types of applications that demand an immediate response to instantaneous peak overloads within the typical machine duty cycle, the "Power Assist" Micro-Hybrid system delivers and supports the engine by delivering an additional electrical power boost of up to 10kW. The immediate torque available offers an efficiency boost at the most crucial time while recuperating and recharging its battery pack when not initiated.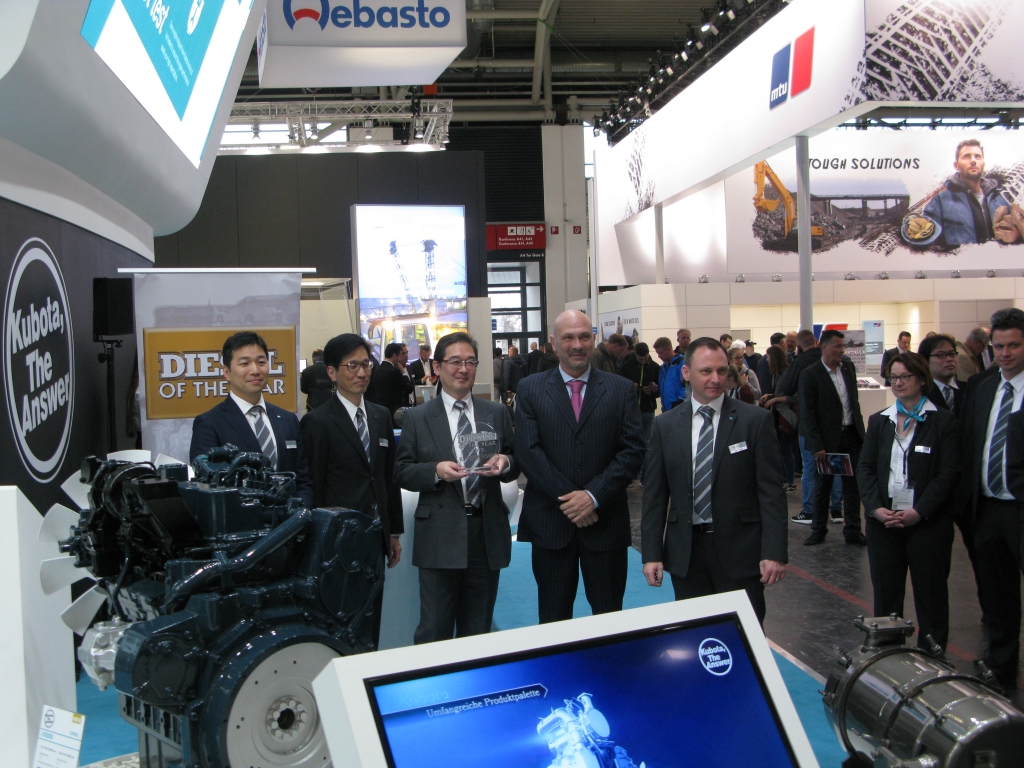 This means that a 3-cylinder Micro-Hybrid equipped engine can achieve similar levels of performance as a conventional 4-cylinder engine and avoid the necessity to overcompensate by installing a larger capacity engine. Working in partnership with the engine, the Micro-Hybrid system allows for reduced fuel consumption and lower operational costs, while offering increases in work efficiency and value.
System integration with Kubota's electronic engine management control means that the Micro-Hybrid system is compatible with many of Kubota's renowned diesel, gasoline, LPG and natural gas engines across the power ranges. Utilising and benefiting from an independent driveline, the Micro-Hybrid system maintains accessibility to the existing power take off positions of a conventional engine. This can be particularly appealing to both existing applications and more compactly designed applications in the future.